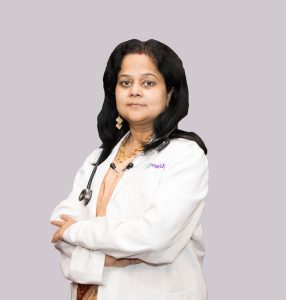 Dealing with fertility issues on the path to parenthood can be an emotional rollercoaster. It's important to find a top specialist that knows their time, support and understanding are just as important as their medical credentials and expertise.
This is your journey and you have choices to make. It's important for you to do your research and ask and understand what's different about Dr. Richika Sahay?
A passionate and concentrated focus
"My practice is solely in the field of reproductive medicine and infertility, allowing me to dedicate all my energy into this complex area of medicine."
"After qualifying as a doctor and then as a specialist gynaecologist, I did a further training in the area of reproductive medicine and infertility. I have had comprehensive training in all aspects of female and male infertility."
An individual approach to each and every journey
"Under my care, your treatment will be highly tailored according to your clinical and personal needs. I provide a clear fertility plan to achieve your dream of having a baby in the shortest possible time; that is my measure of success."
The ultimate collaboration providing access to the latest advances in medical treatment and diagnoses
"The highest pregnancy rate is achieved by a combination of excellent clinical management and an excellent laboratory and I'm proud to work with the very best. "
"I believe modern medicine must embrace alternative health treatments to provide the best results. I have a close working relationship with acupuncturists and herbalists and work in partnership to provide the highest quality care."
"The fertility journey can be a tough road; I strive to make it as smooth as possible for you and your partner. You will never feel like a number under my care. We provide the private, individualised and compassionate care that you and your partner deserve."
Why choose Dr. Richika Sahay?
As a wife and a mother, I understand the importance of family. I'm passionate about empowering women to make informed decisions about their fertility future and most of all, I'm passionate about helping you to fulfill your dream to conceive.